Review: DialoguePerspectives Participants and Alumni*ae inaugurate the BRAVE SPACE at Alexander Haus
On 9 November 2021, Jan Bodenstein's BRAVE SPACE on the grounds of the Alexander Haus was introduced to the public. The temporary, light-flooded building is reminiscent of a Sukkah and ties in with the history of the Alexander Haus. At the same time, the building adds a new dimension to the site and makes it possible to establish a place of learning on the grounds of the Alexander Haus in the future.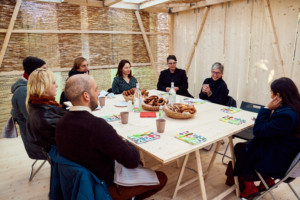 The BRAVE SPACE was inaugurated with a workshop for current and former participants of DialoguePerspectives, led by Amanda Harding, a descendant of the Alexander family. Harding has been involved in community-building dialogue work for decades and three years ago founded Convene, an organisation focused on facilitating solution-based dialogue spaces for actors from diverse backgrounds. Harding introduced the participants to the concept of 'deliberate dialogue' via the 90-minute workshop. Together, the participants reflected on their own motivations for participating in the DialoguePerspectives programme and discussed the prerequisites and limits of a successful dialogue among equals. Harding provided the participants and team members with important food for thought for their further work as part of the DialoguePerspectives programme, as well as for reflection on the theory and practice of dialogue work in general. Many thanks to all participants!