Rückblick: CPPD auf der internationalen Konferenz »Cultural Pluralism and Identity in European Politics after 1945« Cluj-Napoca, Rumänien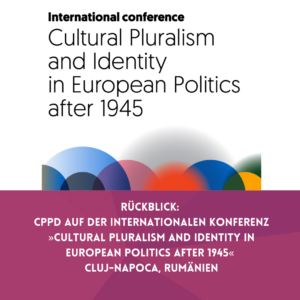 Vom 17. – 19. Mai 2022 fand die internationale Konferenz »Cultural Pluralism and Identity in European Politics after 1945« in Cluj-Napoca, Rumänien statt. Hauptorganisator war das European Network of Remembrance and Solidarity, ein europäisches Netzwerk, das in akademischen, bildungspolitischen und weiteren Formaten Akteur*innen europäischer Erinnerungskultur miteinander verbindet und dabei Entwicklungen innerhalb der europäischen Erinnerungslandschaften reflektiert.
In historischer und vergleichender Perspektive setzte sich die Konferenz zum Ziel, Konzepte um kulturelle – nationale, ethnische und religiöse – Identitäten und ihre Bedeutungen für inländische, trans- und supranationale europäische Politiken nach 1945 zu diskutieren. Ein Schwerpunkt lag dabei auch auf Rumänien und der Region Transsylvanien. Kombiniert wurden die Konferenz-Beiträge mit der Begehung des Stadtraums: Zentrale erinnerungskulturelle Fragestellungen wurden nicht nur bei einem Besuch des Ethnologischen Museums, sondern ebenfalls in den vielen Gesprächen zwischen den Teilnehmenden beantwortet.
Neben den vertretenen vielfältigen akademischen Disziplinen war auch CPPD-Kurator Max Czollek als Speaker auf der Konferenz eingeladen. Unter dem Titel »ErinnerungsFUTUR [Future of Memory]. Towards a Pluralistic Culture of Remembrance« stellte er die Arbeit der CPPD vor, berichtete von erinnerungspolitischen Herausforderungen in Deutschland und verknüpfte diese gelingend mit seinem Aufenthalt und seinen Beobachtungen in der Stadt Cluj-Napoca. Mit Blick auf europäische Identitätsformationen, aktuelle politische Entwicklungen und ihre Bedeutungen für die Ausgestaltung von Erinnerungskulturen schloss Czollek seinen Panelbeitrag mit folgenden Worten:
»The things to draw from European history may be that simple: an insight for how bad things can get. And the energy to create a memory culture that centers not on a reinvention of a positive national identity but aims at creating a society in which this history of violence and destruction cannot repeat itself.
Memory culture understood in this way must therefore confront those fantasies of homogeneity and national greatness which are currently being employed by populist movements in Europe and beyond. These fantasies are not merely the playthings of the political right—nationalist and standardizing narratives can be found today across the entire political spectrum.
Germany is both a post-National Socialist and postcolonial society. But it is also a place of radical diversity that has come a long way from the time the Second World War ended in 1945. It is time for memory culture to follow suit. The departure from a national paradigm is not only a necessary prerequisite if we are to prevent history from repeating itself. It is also necessary if we want to re-envision societies as a place for a pluralistic public discourse.«
Drei Tage inhaltliche Diskussion und Austausch über Identitäten und Pluralismus in Europa neigten sich damit dem Ende entgegen.