»History does not teach the world and does not warn against repeating the same mistakes«
A contribution by Olga P.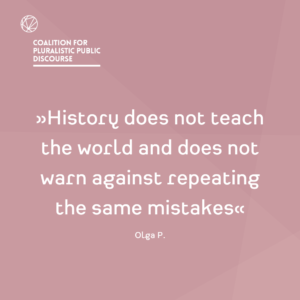 Four months after the Russian war of aggression in Ukraine started, we publish two consecutive e-mails from Olga P., living in Southern Ukraine that is still occupied by Russian Military. In a personal portray of her current experiences in Ukraine she also highlights the importance to remember history.
***
April 11, 2022, 5.37 pm
»I have absolutely no certainty where I`ll be or could end up by or before May 3rd. (…) Will we actually be alive by that time? It may sound strange and scary, but it's our true reality (…). I also understand that my statement may have a very strong political context, which I'm not ready to change in order to compromise as a victim of this modern war in Ukraine.
In the realities of today, Russia is not a great winner of the Second World War – a huge part of the army was not even Russian soldiers, but a lot of different nationalities, as well as Ukrainians and Belarus people.
Russia today is an aggressor who groundlessly kills hundreds of civilians in Ukraine every day – women and children. Cruelly and blindness, without any rationality or explanation, covering all its actions under the heavy curtain of propaganda.
My grandfather [a survivor of Neuengamme Concentration Camp] is buried in Lugansk, today an occupied territory. Russia occupied it (…) in 2014, starting a war in Eastern Ukraine.
And today Russia is using the occupation of Donbas as an argument and excuse for unleashing this new, absolutely senseless and merciless war against the whole of Ukraine.
I have rethought and reflected quite a lot since 2014, when me and my family lost our home for the first time. History should teach that it's impossible to calm down an aggressor, it's impossible to come to an agreement with a dictator and a totalitarian regime. Unfortunately, after 77 years since 1945, this still has to be reminded again and again.
In an informational world, a state is capable of educating a whole country of haters, where even ordinary citizens can wish the deaths of ordinary people in Ukraine without feeling responsibility. How blind must the world be not to draw parallels with what has happened in the past and what is happening right now?«
***
»What would my grandfather [a survivor of Neuengamme Concentration Camp] say to all of that if he was still alive?
My grandfather was a patriot of his country – Ukraine. He raised me up in the paradigm of belonging to the people of Ukraine, its culture, language and traditions. I do not need another motherland; I do not need liberation from my own identity. Would he support the violent actions of Russia today, would he be ready and happy to change his passport and citizenship from a Ukrainian to a Russian one?
Of course not!
We are Ukrainians who remain here today, in our country, in cities where a war is going on day by day, where there is shelling and bombing, where Russia is trying to establish an occupation regime, killing, torture, raping, looting. Will we ever be able to forgive and forget what we are going through today?
It's too early to ask for understanding, neutrality or compromises, it's too impossible for those who have already lost families, parents, children, relatives, friends. In Mariupol, Bucha, Kharkiv, Chernihiv, Mykolaiv, Kramatorsk, Kyiv, Sumy.
We all are living in the 21st century, in the very center of Europe, but history does not teach the world and does not warn against repeating the same mistakes.
I would like these words of mine to be read, understood and heard, even knowing that not everyone will like them. It is truth and truth always tastes bitter and unpleasant.
Olga«