9. October 2019: Antisemitic Attack in Halle
A Dossier by Laura Capes & CPPD-Member Benjamin Fischer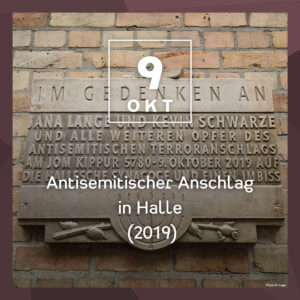 On October 9th 2019 I walked into a solidarity march that had assembled in response to the horrific attacks on the Halle synagogue. Still not having had the chance to break my fast, it was through this manifestation that I had gotten to learn of what is now referred to as one of the worst antisemitic attacks in post-war Germany. All of a sudden someone stepped in front of the protest and showed the Hitler-salute, triggered by Israeli flags, as he explained loudly to the approaching police officers. This was Germany, 2019.
I returned to Germany 3 years ago and still cannot believe that Halle happened.
Halle should have not come as a surprise and yet it stunned the entire community. Every Yom Kippur ever since was overshadowed by news of new antisemitic attacks on Jewish places of worship.
The 9th of October is a good day to salute everyone who works against hate – without the funding, without the akgnowledgement and yes, in some cases under life-threatening conditions. It is a good day to salute everyone who works in victim protection, who creates dialogue where it is mostly needed and against forgetting. Hillel Germany's annual Festival of Resilience not only empowers the affected to create a living memory for those who survived Halle, but similar attacks in Hanau, Mölln, Rostock Lichtenhagen and too many more. Only nine months later, the very people affected by the antisemitic, misogynist, racist attack in Halle decided to speak up in a Magdeburg court, facing the very person that had tried to kill them. This shall be remembered as well, when speaking about the 9th of October 2019: the resilience shown in the aftermath and the courage to answer hate with activism. In that regard I want to quote the widely shared words of the German activist Laura Cazes (Zentralwohlfahrtsstelle der Juden in Deutschland) who, like no other, captured the state of the Jewish community in Germany on that very day:
I keep my phone off on Yom Kippur. But security vigilance is what we grow up with in a Jewish community. I knew something was wrong when I stepped out of my synagogue in Frankfurt at 2:30p.m. today and policemen with machine guns stood in front of the entrance next to the security guards whom I've known since my childhood. I know what this means. All of us do.
The terrorist did not manage to shoot the door of the synagogue in Halle open with his rifle and several molotov cocktails. So he went on to a Turkish Kebab Place, and shot two people along the way who tried to stop him.
To those who don't believe that there is a globally organized white supremacist Neonazi network. The attacker streamed the shooting with his phone. In his motive he used the same rhetorics as the terrorist of Christchurch:
"The Holocaust did not exist. Feminism leads to lower birthrates, therefore there is mass immigration – and the root of all of these problems is "the Jew" (…)"
Should anyone ever ask me again whether police in front of Jewish institutions is really necessary – ask yourselves: Would you like heavily armed policemen in front of your church on christmas? Do you think this is a choice? Do you feel that it could always be you the next time? 
There was no police in front of the synagogue in Halle. And it took the police far too long to arrive to the scene. Meanwhile, the people inside the synagogue started to build barricades with furniture. That the Yom Kippur prayers in Halle did not end in a horrendeous massacre seems like a miracle.
An attack like this hits close to home no matter where it happens. Because it could have been anywhere. It could have been us. This attack was antisemitic. But the target the terrorist chose after he did not manage to enter the synagogue makes one more thing clear:
Our solidarity must go out to all those affected by white supremacist ideology of hatred.
Two people died today for no reason.
A house of worship is a place where people seek peace. The feeling of inner peace is what beats the feeling of unsafety. Every time we go. But the grief remains and the uncertainty of how many more people across the globe will have to die, until it becomes clear to the haters that they had already lost their battle before they even started it.
Tonight, for Ne'ilah, the last prayer of Yom Kippur,
our synagogue in Frankfurt was full.
Noone will stop us from going.
Not to church.
Not to the mosque.
Not to synagogue.