CPPD: ON THE ANNIVERSARY OF THE DEATH OF OURY JALLOH AND IN REMEMBRANCE OF THE VICTIMS OF POLICE VIOLENCE IN GERMANY
A dossier by CPPD member Nadja Ofuatey-Alazard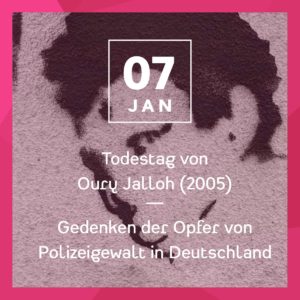 Oury Jalloh (1968-2005) was born in Sierra Leone and had lived in Dessau as an asylum seeker since 2001. On 7 January 2005, he was taken into custody by the police and hours later burned to death, with his hand and feet bound, in a cell at a police station in Dessau. In the aftermath, his family and civil society initiatives such as the Initiative in Gedenken an Oury Jalloh demanded, and continue to demand, a complete investigation of and explanation for his violent death. The police continue to claim that Jalloh set himself on fire, despite having been in handcuffs and lying on a fire-resistant mattress. The case of Oury Jalloh remains legally contested and is one of the best-known examples of institutional racism in Germany.
The Initiative in Gedenken an Oury Jalloh (Initiative in Remembrance of Oury Jalloh) was founded in the direct aftermath of Oury Jalloh's death by burning and has accompanied the insufficient state investigation in Sachsen-Anhalt with its own investigative assessments and civil society pressure. These efforts have led, for example, to the opening of a criminal case on the basis of a second autopsy financed by donations which found several bone injuries on Oury Jalloh's corpse determined to have taken place directly prior to his death. In November 2021, the results of another independent forensic analysis that utilized a crime-scene reconstruction of the fire. It demonstrated that it would have been impossible for Oury Jalloh to have set himself on fire, given that he was bound at four points. It further established that a fire accelerant such as petrol must have been used, given the size and ferocity of the fire, and that the cell door must have been kept open during the fire to ensure sufficient airflow to keep the fire burning.
We can thus assume that multiple Dessau police officers must have abused Oury Jalloh on 7.1.2005 so severely that he was already incapacitated, or perhaps already dead, when they doused him in a fire accelerant and set him alight to cover up the injuries they had already inflicted upon him.
The Initiative in Gedenken an Oury Jalloh, which is supporting his family in their lawsuit, is seeking to force a resumption of the investigation so that justice may finally be attained for this capital offence, carried out 17 years ago by employees of the state.
*******
CPPD: Zum Todestag von Oury Jalloh und in Gedenkan an die Opfer von Polizeigewalt in Deutschland. Ein Dossier von CPPD-Mitglied Nadja Ofuatey-Alazard
Ein Dossier von CPPD-Mitglied Nadja Ofuatey-Alazard
Oury Jalloh (1968–2005) wurde in Sierra Leone geboren und lebte seit 2001 als Asylsuchender in Dessau. Am 7. Januar 2005 wurde er dort von der Polizei in Gewahrsam genommen und verbrannte Stunden später, an Händen und Füßen gefesselt, in einer Zelle im Polizeirevier Dessau. In der Folge forderten und fordern seine Familie und zivilgesellschaftliche Initiativen wie die Initiative in Gedenken an Oury Jalloh die vollständige Aufklärung seines gewaltvollen Todes. Nach wie vor behauptet die Polizei, Jalloh habe sich trotz Handschellen und einer brandschutzsicheren Matratze selbst angezündet. Der Fall Oury Jalloh bleibt bis heute juristisch umkämpft und ist eines der bekanntesten Beispiele für institutionellen Rassismus in Deutschland.
Die Initiative in Gedenken an Oury Jalloh gründete sich unmittelbar nach dem Brandtod Oury Jallohs und flankiert seitdem die mangelhaften staatlichen Ermittlungen in Sachsen-Anhalt durch eigene gutachterliche Untersuchungen und zivilgesellschaftlichen Druck. So wurde bspw. die Eröffnung eines gerichtlichen Strafverfahrens erst durch das Ergebnis einer zweiten, spendenfinanzierten Autopsie ermöglicht, bei der mehrere schwere knöcherne Verletzungen am Leichnam von Oury Jalloh nachgewiesen wurden, die diesem unmittelbar vor seinem Tod zugefügt worden waren. Im November 2021 wurden auch die Ergebnisse eines erneuten unabhängigen forensischen Gutachtens veröffentlicht, nachdem im Rahmen einer tatortgetreuen Brandrekonstruktion wiederum aufgezeigt werden konnte, dass Oury Jalloh sich aufgrund der Vier-Punkt-Fixierung unter keinen Umständen selbst angezündet haben konnte, dass bei dem massiven Brand mit Sicherheit ein Brandbeschleuniger wie bspw. Benzin verwendet worden war, und dass die Arrestzellentür offen gestanden haben muss, um eine ausreichende Luftzufuhr zu gewährleisten.
Es ist also davon auszugehen, dass mehrere Dessauer Polizeibedienstete Oury Jalloh am 7.1.2005 so schwer misshandelt hatten, dass er bereits handlungsunfähig oder vielleicht sogar schon tot war, als sie ihn mit Brandbeschleuniger begossen und anzündeten, um die zuvor zugefügten Verletzungen zu vertuschen.
Mit den Ergebnissen der Brandsimulation will die Initiative zum Gedenken an Oury Jalloh, die dessen Familie im Klageverfahren unterstützt, eine Wiederaufnahme der Ermittlungen erzwingen, damit dieses vor 17 Jahren von Staatsbediensteten verübte Kapitalverbrechen endlich gesühnt wird.